BSES_AboutBSES_Content
BSES Yamuna Power Limited (BYPL)
has been the frontrunner in implementing power distribution reforms in the capital city of Delhi and is acknowledged for its quality, reliable power supply and customer friendly practices.
.
BYPL is a joint venture between Reliance Infrastructure Limited and Govt of NCT of Delhi with a 51%: 49% share holding. The company started operations on July 1, 2002 post the unbundling of the erstwhile Delhi Vidyut Board (DVB). The company's operations span across its license area of 200 sq km in the Eastern and Central parts of the National Capital.
For a greater reach and easy serviceability, the company serves its customer base through its THREE CIRCLES (South-East, North-East & Central) & FOURTEEN DIVISIONS (Chandni Chowk, Darya Ganj, Dilshad Garden, Jhilmil, Karawal Nagar, Krishna Nagar, Laxmi Nagar, Mayur Vihar, Vasundhara Enclave, Nandnagri, Pahar Ganj, Patel Nagar, Shankar Road and Yamuna Vihar).
Since privatization, the Aggregate Technical & Commercial (AT&C) losses in its areas have shown a record decline. From a high of 63.1% in 2002, the AT&C losses have come down to single digit levels i.e. 8.98% levels, a reduction of over 54%.
Key Transformation Parameters
Parameters
FY 03
FY 19
Gain%
AT&C Loss (%)
63.1%
8.9%
86%
No of Customer (Lacs)
7.5
16.8
124%
Peak Demand (MW)
801
1,561
95%
System Reliability Index
70%
99.9%
43%
Energy Input (MU)
3,624
7,182
98%
Energy Billed (MU)
1,734
6,504
275%
Per capita consumption (kWh /customer)
2,312
3,871
67%
Customer Density (no/sqkm)
3,750
8,400
124%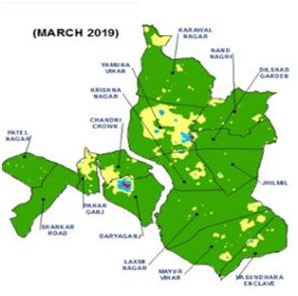 The following operational statistics given an overall view of the strength of BSES distribution network:
BYPL's Performance Journey [FY14 - FY19] :
Since yr 2014, BYPL has been able to drive its business excellence journey through effective AT&C loss reduction by way of infusing automation, simplifying processes & curtailing theft of electricity.

Our Customer Outreach Programs (virtual & physical) have not only helped us improve our service performance levels but have also added to our customer's awareness levels. The consistent reduction in the registered customer complaints is the reflection of the same.

As hallmark of our Operational Excellence journey, BYPL bagged few of the most prestigious & sought after National & International Level Awards, namely:
Golden Peacock Occupational Health & Safety Award 2019 for Workplace Safety.
National Energy Conservation Award (NECA) 2018 first prize winner in the 'Utility' category. This award was conferred by BEE & Ministry of Power, Govt. of India.
Customer Obsession Award for Customer Centricity by Confederation of Indian Industry (CII).
Two International Awards i.e. Global Asian Innovators Award 2018 for Best customer Experience & Asia Power Award 2018 for the T&D Project of the Year.
With global focus towards Carbon Footprint reduction, BYPL is also actively promoting various 'Green' Programs wrt Clean Energy (RE sourcing, Solar Roof Top, Electric Vehicles), Energy Efficiency, Demand Response, Waste Management etc.
BYPL Corporate Presentation: https://www.bsesdelhi.com/web/bypl/corporate-presentation