BSES_AboutBSES_Content
BSES Yamuna Power Limited (BYPL)
BSES Yamuna Power Limited (BYPL) is a joint venture between Reliance Infrastructure Limited and Govt of NCT of Delhi with a 51%: 49% share holding.
The company started operations on July 1, 2002 post the unbundling of the erstwhile Delhi Vidyut Board (DVB). The company's operations span across an area of 200 sq kms with a customer density of 8250 per sq km. The company supplies electricity to around 1.6 million customers in East and Central Delhi.
For a greater reach and easy serviceability, the company serves its customer base through 3 Circles (South-East Circle, North-East Circle and Central Circle) and 14 divisions (Chandni Chowk, Darya Ganj, Dilshad Garden, Jhilmil, Karawal Nagar, Krishna Nagar, Laxmi Nagar, Mayur Vihar, Vasundhara Enclave, Nandnagri, Pahar Ganj, Patel Nagar, Shankar Road and Yamuna Vihar).
BYPL has been the frontrunner in implementing power distribution reforms in the capital city and is acknowledged for its quality and reliable power supply and consumer friendly practices. Since privatization, the Aggregate Technical & Commercial (AT&C) losses in its areas have shown a record decline. From a high of 63.1 % in 2002, the AT&C losses have come down to less than 11 % in FY 17-18, a reduction of over 52%. The discom has won several national and international awards for its remarkable services.
System Augmentation and record AT&C loss reduction
To provide reliable and quality power supply to its customers, BSES has invested over Rs 7800 crores on upgradation and augmentation of its power distribution network.
| SN | Particular (As of Mar '18) | UoM | BSES Yamuna |
| --- | --- | --- | --- |
| 1 | Area | sq. km | 200 |
| 2 | Customer Density | Cons/sq km | 8250 |
| 3 | Total Registered Customers | Million | 1.65 |
| 4 | Peak Demand | MW | 1459 |
The following operational statistics given an overall view of the strength of BSES distribution network:
SN
ITEMS
FY 16-17
FY 17-18
1
No. of Grids
52
53
2
No. of Power Transformers
150
158
3
EHV Capacity (MVA)
3265
3476
4
EHV Cable Length/Line Length Laid (KM)
963
989
5
No. of Distribution Transformer
3741
3803
6
Distribution Transformers Capacity (MVA)
2773
2849
7
No. of 11 kV Feeders
810
846
8
11 KV Cables laid (Kms)
1871
1923
9
Total No. of LT Feeders
14183
14659
10
LT Lines laid (Kms)
5786
5868
11
No of 33 KV & 66 KV feeders
158
163
12
Shunt Capacitor (MVAR)
1027
999
* Includes 9 nos 33 kV HT Consumer ** excludes HVDS transformers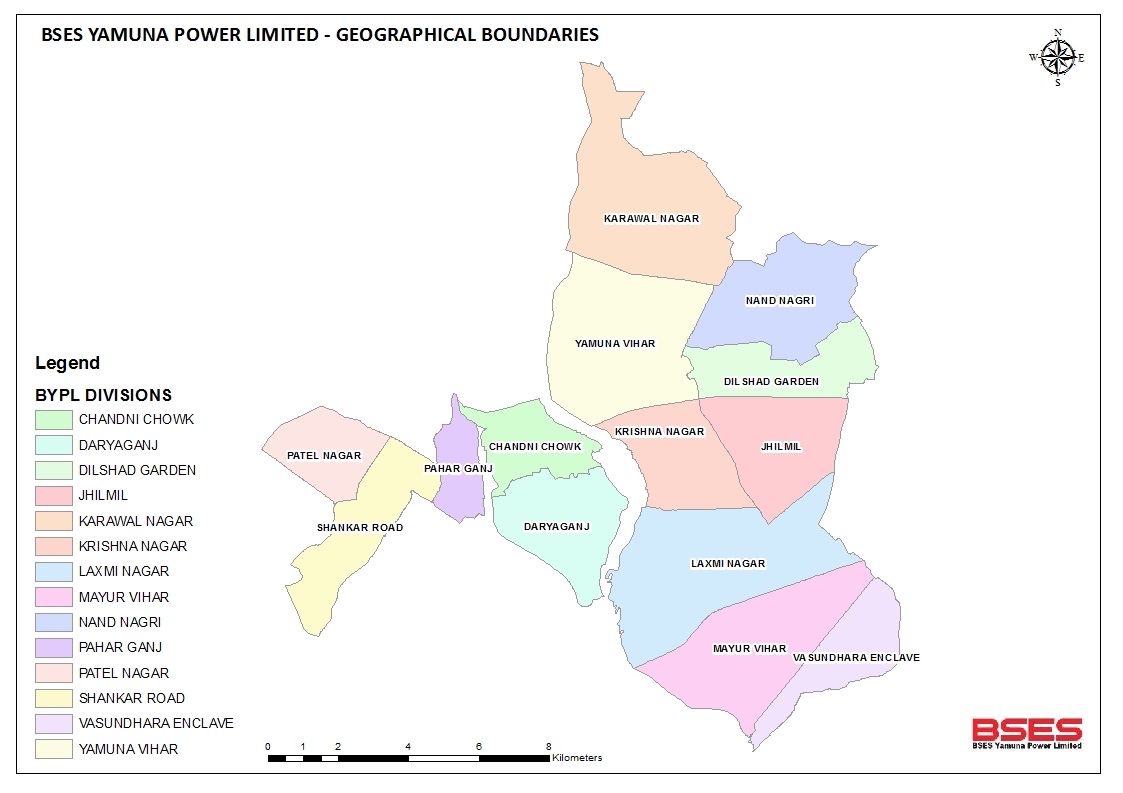 BYPL Corporate Office
Address
:
BSES Yamuna Power Limited
Shakti Kiran Building, Karkardooma,Delhi-110032
Nearest landmark : Karkardooma Court.
Telephone
:
011-39997111
Fax
:
011-39999765
CIN
:
U40109DL2001PLC111525