BYPL_OfflinePayment_Banner
BYPL_OfflinePayment_Content
General Guidelines for you
Please draw your cheque in favour of " BYPL, CA No. XXXXXXXXXX".
Please ensure that cheque is account payee and is not post dated.
Attach your bill payment slip to your bill payment cheque and write BILL PAYMENT on the envelope.
You may send your cheque by post or by courier to the following address:
For BSES Yamuna Power Limited Customers
Head-Customer Care, BSES Yamuna Power Ltd
BSES Corporate Annexe ,CBD-III GRID,First Floor,
Opposite Agarwal Fun City Mall,
Karkardooma, Delhi-110032.
Specimen of Filled cheque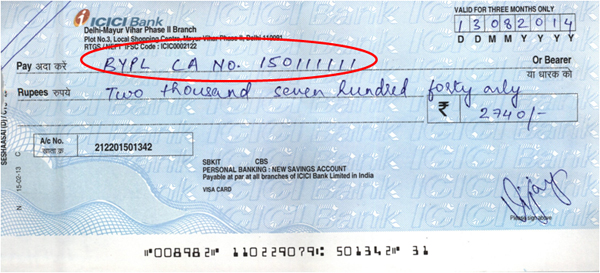 ECS mandate form is designed & publicize by NPCI.
Its mandatory to fill the mandate form by the new applicants.
bses-easy-bill-web Portlet
bses-payment-bank-branches Portlet
| Sr. No | Bank Name | Branch | Address |
| --- | --- | --- | --- |
| 1 | Punjab National Bank | BIJWASAN | KHASRA NO 322/1 MAIN ROAD NAJAFGARH ROAD |
| 2 | Punjab National Bank | BO MUNDKA | 654/2/2,OPP METRO,PILLAR 500, ROHTAK RD |
| 3 | Punjab National Bank | CENTRAL ORDINANCE DEPOT DELHI | CENTRAL ORDINANCE DEPO |
| 4 | Punjab National Bank | DAYANAND MODEL SCHOOL | MANDIR MARG, NEW DELHI |
| 5 | Punjab National Bank | DELHI CHANDNI CHOWK | CHANDNI NAGAR KATRA NEEL |
| 6 | Punjab National Bank | DELHI F-122, VIKAS PURI | F-122, VIKAS PURI, NEW DLEHI |
| 7 | Punjab National Bank | DELHI JHATIKARA | PLOT NO.2, KHASRA NO.84 VILLAGE JHATIKARA DELHI-110043 |
| 8 | Punjab National Bank | DELHI NEW ASAF ALI ROAD | 1/8B,ASAF ALI ROAD |
| 9 | Punjab National Bank | DELHI NEW BHERA ENCLAVE PASCHIM VIHAR | 194,GH-13,PASCHIM VIHAR |
| 10 | Punjab National Bank | DELHI NEW CHANAKYA PURI | 22, SARDAR PATEL MARG |
| 11 | Punjab National Bank | DELHI NEW DARYA GANJ | DMA HOUSE,ANSARI ROAD, DARYAGANJ |
| 12 | Punjab National Bank | DELHI NEW JANAKPURI | B-1, COMMUNITY CENTRE, JANAKPURI |
| 13 | Punjab National Bank | DELHI NEW NANGAL RAYA | D-2/13, JANAKPURI |
| 14 | Punjab National Bank | DELHI NEW PAHAR GANJ | PNB HOUSE,D.B.GUPTA ROAD,PAHARGANJ |
| 15 | Punjab National Bank | DELHI NEW, DELHI CANTT | GOPINATH BAZAR DELHI CANTT. |
| 16 | Punjab National Bank | DELHI NEW, ECE HOUSE | 26-A,K G MARG,CONNAUGHT PLACE |
| 17 | Punjab National Bank | DELHI NEW, HARI NAGAR | JAIL ROAD, HARI NAGAR |
| 18 | Punjab National Bank | DELHI NEW, JANPATH | 74, JANPATH, |
| 19 | Punjab National Bank | DELHI NEW, L.C.B. | A-9, RAJIV CHOWK, CONN.PLACE, NEW DELHI |
| 20 | Punjab National Bank | DELHI NEW, M.C.B. | NEW DELHI HOUSE, BARAKHAMBA ROAD |
| 21 | Punjab National Bank | DELHI NEW, PUNJABI BAGH | 38,CENTRE MARKET, WEST PUNJABI BAGH |
| 22 | Punjab National Bank | DELHI NEW, RAJENDRA PLACE | 117,PRABHAT KIRAN BUILDING,RAJINDRA PLACE |
| 23 | Punjab National Bank | DELHI NEW, RAJINDER NG,FIRE STN | BLDG NO R-565,NEAR FIRE STATION,RAJINDER NAGAR |
| 24 | Punjab National Bank | DELHI NEW, RAJOURI GARDEN | J-2/15A B.K.DUTT MKT.RAJOURI GARDEN |
| 25 | Punjab National Bank | DELHI NEW, SANSAD MARG | 5-SANSAD MARG, |
| 26 | Punjab National Bank | DELHI NEW, TILAK NAGAR | 1/17 MAIN NAJAFGARH ROAD BUS STAND TILAK NAGAR |
| 27 | Punjab National Bank | DELHI NEW, TROPICAL BUILDING | H-22,TROPICAL BLDG., CONN. PLACE |
| 28 | Punjab National Bank | DELHI NEW, VIKAS PURI | A-9, MAIN UTTAM NAGAR ROAD, VIKASPURI |
| 29 | Punjab National Bank | DELHI NEW, WEST PATEL NAGAR | 222, WEST PATEL NAGAR MAIN ROAD |
| 30 | Punjab National Bank | DELHI NEW,DWARKA | IST & IIND FLOOR, WADHWA COMPLEX,PLOT NO.18,MAIN MARKET SECTOR-10,DWARKA |
| 31 | Punjab National Bank | DELHI NEW,KIRTI NAGAR | KIRTI NAGAR |
| 32 | Punjab National Bank | DELHI NEW,MINTO ROAD,K-BLOCK | K-BLOCK, CONNAUGHT PLACE, |
| 33 | Punjab National Bank | DELHI NEW,N-46,CONNAUGHT CIRCUS | N-46, CONNAUGHT CIRCUS, NEW DELHI |
| 34 | Punjab National Bank | DELHI NEW,NEW RAJINDER NAGAR | AHIMSA BHAWAN, SHANKAR ROAD, NEW RAJ. NAGAR |
| 35 | Punjab National Bank | DELHI NEW,PAPRAWAT | VILL.&PO:PAPRAWAT, VIA NAJAFGARH |
| 36 | Punjab National Bank | DELHI, MAYAPURI | PHASE-1, MAIN ROAD MAYAPURI INDT. AREA |
| 37 | Punjab National Bank | DELHI, NAJAFGARH | THANA ROAD, NAJAFGARH |
| 38 | Punjab National Bank | DELHI,CHAWRI BAZAR | CHAWRI BAZAR |
| 39 | Punjab National Bank | DELHI,GURUDWARA ROAD | GURDWARA ROAD, KAROL BAGH |
| 40 | Punjab National Bank | DELHI,I B B | 8TH FLOOR, DCM BLDG., BARAKHAMBA ROAD |
| 41 | Punjab National Bank | DELHI,NARAINA VIHAR | NARAINA |
| 42 | Punjab National Bank | DWARKA MOR ( DELHI) | B54A,55,SURAJ VIHAR,DWARKA MOR,OPP-NSIT, |
| 43 | Punjab National Bank | DWARKA SECTOR 10 ,HO BUILDING | DWARKA SECTOR 10 HO BUILDING |
| 44 | Punjab National Bank | EAST PUNJABI BAGH , NEW DELHI | 22 , EAST AVENUE EAST PUNJABI BAGH |
| 45 | Punjab National Bank | GYMKHANA CLUB, RACE COURSE ROAD | GYMKHANA CLUB, RACE CO |
| 46 | Punjab National Bank | JHARODA KALAN | PLOT NO.186, MAIN GURGAON ROAD, VILLAGE JHARODA KALAN, NEW DELHI |
| 47 | Punjab National Bank | JWALA HERI PASCHIM VIHAR DELHI | B-1/198,PASCHIM VIHAR NEW DELHI -63 |
| 48 | Punjab National Bank | KAKROLA (DELHI) | RING MIDWAY PUBLIC SCHOOL, KAKROLA, NAJAFGARH, DELHI |
| 49 | Punjab National Bank | KHYALA ROAD ,VISHNU GARDEN | KHYALA ROAD , VISHNU GARDEN NEW DELHI |
| 50 | Punjab National Bank | MAITREYI COLLEGE, BAPU DHAM | MAITREYI COLLEGE, BAPU |
| 51 | Punjab National Bank | MANSAROVAR GARDEN , NEW DELHI | F 15,MANSAROVAR GARDEN NEW DELHI |
| 52 | Punjab National Bank | NDELHI,BHARTI COLLEGE,JANAKPURI | |
| 53 | Punjab National Bank | NEW DELHI BANK STREET KAROLBAGH | BANK STREET,KAROL BAGH |
| 54 | Punjab National Bank | NEW DELHI L-BLOCK CONNAUGHT PLA | L-BLOCK, CON.CIRCUS, |
| 55 | Punjab National Bank | NEW DELHI, DHOOL SIRAS | VILLAGE DHOOL SIRAS, NEW DELHI |
| 56 | Punjab National Bank | NEW DELHI, DWARKA SECT-22 | DELHI |
| 57 | Punjab National Bank | NEW DELHI, GOYALA KHURD | DELHI |
| 58 | Punjab National Bank | NEW DELHI, GTBI, RAJAURI GARDEN | G-8 AREA,RAJOURI GARDEN, NEW DELHI |
| 59 | Punjab National Bank | NEW DELHI, MAHAVIR ENCLAVE | 84/24 MAHAVIR ENCLAVE, PALAM ROAD,NEW DELHI |
| 60 | Punjab National Bank | NEW DELHI, NANGLOI | NANGLOI |
| 61 | Punjab National Bank | NEW DELHI, SEC 12A, DWARKA | PLOT NO.17, SECTOR 12 - A, DWARKA, NEW DELHI |
| 62 | Punjab National Bank | NEW DELHI, UTTAM NAGAR | B-1, RAM NAGAR, OM VIHAR, OPP PILLAR 708 |
| 63 | Punjab National Bank | NEW DELHI,INDERPURI | ER-14,INDERPURI |
| 64 | Punjab National Bank | NEW DELHI,MSME-BR,BARAKHAMBA RD | NEW DELHI,MSME-BR,BARAKHA |
| 65 | Punjab National Bank | NEW DELHI,NEW ROHTAK ROAD | ROHTAK ROAD, NEA LIBERTY CINEMA |
| 66 | Punjab National Bank | RAJAPURI , DWARKA | PNB PLOT NO 28, SEC -3 RESIDENTIAL SCHEME |
| 67 | Punjab National Bank | SECTOR 7, DWARKA,NEW DELHI | P.N.BANK, C 912-914, SECTOR 7,DWARKA,NDELHI |
| 68 | Punjab National Bank | SUBHASH NAGAR NEW DELHI | S2 AJAY ENCLAVE SUBHASH NAGAR NEW DELI |
| 69 | Punjab National Bank | BADAULI BANGAR, NOIDA (U.P.) | BADAULI BANGAR, NOIDA, GAUTAM BUDH NAGAR(U.P) |
| 70 | Punjab National Bank | BHATTA,GREATER NOIDA | BHATTA GREATER NOIDA GAUTAM BUDH NAGAR |
| 71 | Punjab National Bank | BILASPUR DIST.GAUTAM BUDH NGR | BILASPURDISTT. GAUTAM BUDH NAGAR |
| 72 | Punjab National Bank | CROSSING REPUBLIC | PNB, CROSSING REPUBLIC GHAZIZBAD |
| 73 | Punjab National Bank | DADRI, DISTT. G.B. NAGAR | RAILWAY ROAD, DADRI |
| 74 | Punjab National Bank | DADRI, ICD (G B NAGAR) | DADRI, U.P. |
| 75 | Punjab National Bank | DANKAUR (BULANDSHAHAR) | ANAJ MANDI DANKAUR |
| 76 | Punjab National Bank | GAUTAM BUDH UNIVERSITY | GAUTAM BUDH UNIVERSITY GAUTAM BUDH NAGAR |
| 77 | Punjab National Bank | GHAZIABAD KAVI NAGAR | DISTT. GHAZIABAD |
| 78 | Punjab National Bank | GHAZIABAD, AMBEDKAR MARG | DISTT. GHAZIABAD |
| 79 | Punjab National Bank | GHAZIABAD, CHHAPRAUALA | CHHAPRAULA |
| 80 | Punjab National Bank | GHAZIABAD, DASNA | NR WATER TANK, BUS STAND, DASNA, GHAZIABAD |
| 81 | Punjab National Bank | GHAZIABAD, INDIRAPURAM | INDIRA PURAM, GHAZIABAD |
| 82 | Punjab National Bank | GHAZIABAD, KAUSHAMBI | DISTT. GHAZIABAD |
| 83 | Punjab National Bank | GHAZIABAD, LONI | DISTT. GHAZIABAD |
| 84 | Punjab National Bank | GHAZIABAD, MEERUT ROAD | MEERUT ROAD, GHAZIABAD |
| 85 | Punjab National Bank | GHAZIABAD, MOHAN NAGAR | DISTT. GHAZIABAD |
| 86 | Punjab National Bank | GHAZIABAD, NAVYUG MARKET | DISTT. GHAZIABAD |
| 87 | Punjab National Bank | GHAZIABAD, NEHRU NAGAR | DISTT. GHAZIABAD |
| 88 | Punjab National Bank | GHAZIABAD, NOOR NAGAR | GHAZIABAD, NOOR NAGAR UP |
| 89 | Punjab National Bank | GHAZIABAD, NTPC | GHAZIABAD, NTPC |
| 90 | Punjab National Bank | GHAZIABAD, RAJ NAGAR | 127 C, SECTOR 11, RAJ NAGAR, GHAZIABAD |
| 91 | Punjab National Bank | GHAZIABAD, RAJINDER NAGAR | DISTT. GHAZIABAD |
| 92 | Punjab National Bank | GHAZIABAD, VAISHALI | VAISHALI, GHAZIABAD |
| 93 | Punjab National Bank | GHAZIABAD,AKP VIJAY NAGAR | DISTT. GHAZIABAD |
| 94 | Punjab National Bank | GHAZIABAD,BRIJ VIHAR | A-49, RAMPURI, RAMPURI ENCLAVE |
| 95 | Punjab National Bank | GHAZIABAD,CHANDER NAGAR | DISTT. GHAZIABAD |
| 96 | Punjab National Bank | GHAZIABAD,GOVINDPURAM | GOVINDPURAM,GHAZIABAD |
| 97 | Punjab National Bank | GHAZIABAD,GT ROAD | GHAZIABAD G T ROAD |
| 98 | Punjab National Bank | GHAZIABAD,SHASTRI NAGAR | DISTT. GHAZIABAD |
| 99 | Punjab National Bank | GHAZIABAD,VASUNDHARA,UP AWAS PD | U.P. AVAS VIKAS PARISHAD, SEC.16, VASUNDHARA GHAZIABAD, U.P. |
| 100 | Punjab National Bank | GHORI BACHHERA | GHORI-BACHHERA,U.P. |
| 101 | Punjab National Bank | GR NOIDA KASNA | KASNA,3659,GAUTAM BUDH NAGAR,G.NOIDA |
| 102 | Punjab National Bank | GR.NOIDA SURAJPUR | SURAJPUR |
| 103 | Punjab National Bank | JAHANGIRPUR | JAHANGIRPUR |
| 104 | Punjab National Bank | JEWAR (BULANDSHAHAR) | KHURJA-JEWAR ROAD,OPP. KOTWALI IOC PUMP,JEWAR |
| 105 | Punjab National Bank | KARHERA , MOHAN NAGAR (UP) | 713,NEW KARHERA COLON,MOHANNAGAR, GHAZIABAD |
| 106 | Punjab National Bank | KHANPUR | PUNJAB NATIONAL BANK KHNAPUR,GR. NOIDA |
| 107 | Punjab National Bank | KRIBHCO ICD RORI | PUNJAB NATIONAL BANK ICD RORI, MODINAGAR |
| 108 | Punjab National Bank | LOHA MANDI, GHAZIABAD | |
| 109 | Punjab National Bank | MAICHA, GREATER NOIDA | MAICHA, GR NOIDA UP |
| 110 | Punjab National Bank | MODINAGAR, MODI STEELS | MODI STEEL,MODINAGAR,GHAZIABAD |
| 111 | Punjab National Bank | MODINAGAR, TEXTILE MILL | TEXTILE MILL, MODINAGAR, GHAZIABAD |
| 112 | Punjab National Bank | MODINAGAR,GOVINDPURI | MODINAGAR,GOVINDPURI |
| 113 | Punjab National Bank | MODINAGAR,GT ROAD | DISTT. GHAZIABAD |
| 114 | Punjab National Bank | MORTA (UP WEST) | VILLAGE & PO: MORTA, DISTT: GHAZIABAD |
| 115 | Punjab National Bank | MURADNAGAR | DISTT. GHAZIABAD |
| 116 | Punjab National Bank | NIWARI | PNB NIWARI MODINAGAR, GHAZIABAD |
| 117 | Punjab National Bank | NOIDA GREATER,ALPHA SECTOR | ALPHA SECTOR 2,USBA COMPOUND,GREATER NOIDA |
| 118 | Punjab National Bank | NOIDA, BHANGEL | NOIDA |
| 119 | Punjab National Bank | NOIDA, JSS ACADEMY SECT-62 | SECTOR 62, BLOCK C, NOIDA |
| 120 | Punjab National Bank | NOIDA, NEPZ PHASE-II | PHASE-II, NOIDA |
| 121 | Punjab National Bank | NOIDA, RAPC GAUTAM BUDH NAGAR | NEAR SECTOR 82,BHANG NOIDA |
| 122 | Punjab National Bank | NOIDA, SECTOR - 18 | PLOT NO 20,21, SECTOR-18, NOIDA |
| 123 | Punjab National Bank | NOIDA, SECTOR - 66 | SECTOR - 66, NOIDA UP |
| 124 | Punjab National Bank | NOIDA, SECTOR-27 | I BLOCK MARKET, SECTOR 27,NOIDA |
| 125 | Punjab National Bank | NOIDA,L.C.B.SECTOR-63(UP) | |
| 126 | Punjab National Bank | NOIDA,METRO HOSPITAL SECT-12 | U.G. HOSPITAL LTD. (METRO HOSPITAL), SECTOR 12, NOIDA |
| 127 | Punjab National Bank | NOIDA,SECTOR-16 | NOIDA,SECTOR-16 UP |
| 128 | Punjab National Bank | NOIDA,SECTOR-63 | NOIDA, MCB,SECTOR-63 UP |
| 129 | Punjab National Bank | NOIDA,SECTOR-I | C-13,SECTOR-I, NOIDA |
| 130 | Punjab National Bank | OMEGA SECTOR | SECTOR OMEGA, JYOTI HOSPITAL, NRI CITY, NEAR PARI CHOWK, GREATER NOIDA |
| 131 | Punjab National Bank | RABUPURA (BULANDSHAHAR) | NEAR BUS STAND RABUPURA |
| 132 | Punjab National Bank | RAOLI KALAN, (MURADNAGAR)UP | RAOLI KALAN,(MURADNAGA UP |
| 133 | Punjab National Bank | ROZA YAKUBPUR | ROZA YAQUBPUR,CHHAPRAULA |
| 134 | Punjab National Bank | SADOPUR KI JHAL (DELHI NORTH) | AIR FORCE STATION, G.T. ROAD, SAHOPUR KI JHAL, U.P. |
| 135 | Punjab National Bank | SAHIBABAD | DISTT. GHAZIABAD |
| 136 | Punjab National Bank | SANJAY NAGAR, GHAZIABAD | H9, SEC23, SANJAY NAGR, GHAZIABAD |
| 137 | Punjab National Bank | SEC 48 , NOIDA | 1ST FLOOR , TULIP MALL SEC 48 , NOIDA |
| 138 | Punjab National Bank | SEC-44 NOIDA | PUNJAB NATIONAL BANK SEC-44,NOIDA |
| 139 | Punjab National Bank | SECTOR 104 NOIDA | PUNJAB NATIONAL BANK HAZIPUR MAIN ROAD |
| 140 | Punjab National Bank | SECTOR GAMMA, GREATER NOIDA | B-6 GAMA SHOPPING COMPLEX, GAMA - 1, GREATER NOIDA, UP |
| 141 | Punjab National Bank | SECTOR-51, NOIDA | SECTOR 51, NOIDA , UP. |
| 142 | Punjab National Bank | SHALIMAR GARDEN | S1,A BLOCK SHALIMAR GARDEN EX II SAHIBABAD |
| 143 | Punjab National Bank | TILE SHAHBAZPUR | PNB, TILE SHAHBAZPUR, GHAZIABAD |
| 144 | Punjab National Bank | TRONICA CITY , GHAZIABAD | TRONICA CITY , GHAZIAA |
| 145 | Punjab National Bank | AZADPUR, GT ROAD | GT ROAD,AZADPUR,COMMERCIAL COMPLEX,1ST FLOOR, |
| 146 | Punjab National Bank | BAKHTAWARPUR, DELHI | KHASRA. NO. 44/22, BAKHTAWARPUR, DELHI |
| 147 | Punjab National Bank | BANKAULI | DELHI |
| 148 | Punjab National Bank | BO:RANIKHERA, DELHI | PLOT NO:303, VPO RANI KHEDA,DELHI |
| 149 | Punjab National Bank | DELHI BARA HINDU RAO | 6164,BARA HINDU RAO |
| 150 | Punjab National Bank | DELHI BURARI | 303/1,BURARI |
| 151 | Punjab National Bank | DELHI CGHS PATPARGANJ | DDA MKT, CSC-I PATPARGANJ |
| 152 | Punjab National Bank | DELHI GANDHI NAGAR | BHAGWAN DASS KOTHI, GANDHI NAGAR |
| 153 | Punjab National Bank | DELHI GHONDA ROAD | 352 GHONDA MAIN ROAD, DELHI |
| 154 | Punjab National Bank | DELHI GOKHLE MARKET | 29,1ST FLOOR,ABOVE SHOP NO.73-74,GOKHLE MARKET |
| 155 | Punjab National Bank | DELHI KISHAN GANJ | PADAM NAGAR,KISHAN GANJ |
| 156 | Punjab National Bank | DELHI MADHUBAN | C-184,MADHUBAN |
| 157 | Punjab National Bank | DELHI MALL ROAD | 34,REVIERA APARTMENT, MALL ROAD |
| 158 | Punjab National Bank | DELHI MAMS CD-BLOCK PITAMPURA | HAMAHRAJA AGGRSEN MODEL SCHOOL, CD BLOCK PITAM PURA,NEWDELHI |
| 159 | Punjab National Bank | DELHI NEW ,PREET VIHAR | F-90,VIKAS MARG, PREET VIHAR |
| 160 | Punjab National Bank | DELHI NEW, SHALIMAR BAGH | AM-60,SHALIMAR BAGH |
| 161 | Punjab National Bank | DELHI NEW,MAYUR VIHAR PHASE I | |
| 162 | Punjab National Bank | DELHI RANA PRATAP BAGH | D 1/1,R.P.BAGH |
| 163 | Punjab National Bank | DELHI RANI BAGH | MAIN BAZAR, RANI BAGH |
| 164 | Punjab National Bank | DELHI SECTOR 7 ROHINI | ROHINI-7 |
| 165 | Punjab National Bank | DELHI SWAROOP NAGAR | A-72 SWAROOP NAGAR, SHIV MANDIR ROAD |
| 166 | Punjab National Bank | DELHI TRILOK PURI | NEAR CHAND CINEMA, TRILOKPURI |
| 167 | Punjab National Bank | DELHI, BARWALA | A-169, BARWALAVILLAGE,DELHI |
| 168 | Punjab National Bank | DELHI, CIVIL LINES | 13,ALIPUR ROAD, CIVIL LINES |
| 169 | Punjab National Bank | DELHI, DILSHAD GARDEN | KK9-BLOCK B,SHOPPING COMPLEX,DILSHAD GARDEN |
| 170 | Punjab National Bank | DELHI, DURGAPURI SHAHDARA | DELHI |
| 171 | Punjab National Bank | DELHI, KAMLA NAGAR | 8A,KAMLA NAGAR |
| 172 | Punjab National Bank | DELHI, KHARI BAOLI | KHARI BAOLI |
| 173 | Punjab National Bank | DELHI, KHRMS, ASHOK VIHAR | ASHOK VIHAR (KHRMS) |
| 174 | Punjab National Bank | DELHI, MANDAWALI | MANDAWALI |
| 175 | Punjab National Bank | DELHI, MAYUR VIHAR | MAYUR VIHAR (NBL) |
| 176 | Punjab National Bank | DELHI, MODEL TOWN | G-7,MODEL TOWN-III |
| 177 | Punjab National Bank | DELHI, NARELA | DELHI |
| 178 | Punjab National Bank | DELHI, PRASHANT VIHAR | C 3/9, PRASHANT VIHAR |
| 179 | Punjab National Bank | DELHI, QUTABGARH | VILLAGE & P.O. QUTABGARH |
| 180 | Punjab National Bank | DELHI, RADHEY PURI | 500/13,ARJUN NAGAR, RADHEYPURI |
| 181 | Punjab National Bank | DELHI, ROHINI SEC-11 | ANUSHKA SHOPPING MALL SECTOR-11 ROHINI DELHI |
| 182 | Punjab National Bank | DELHI, ROHINI, SECT-15 | ROHINI, SECT-15 DELHI-85 |
| 183 | Punjab National Bank | DELHI, SANJAY GANDHI T.NGR | DELHI, SANJAY GANDHI T.NG |
| 184 | Punjab National Bank | DELHI, SECTOR-18 ROHINI | DELHI, SECTOR-18 ROHINI |
| 185 | Punjab National Bank | DELHI, SHAKTI NAGAR | 1/9,ROOP NAGAR, SHAKTI NAGAR |
| 186 | Punjab National Bank | DELHI, SUBZI MANDI | SUBZI MANDI, GHANTA GHAR |
| 187 | Punjab National Bank | DELHI, SURAJMAL VIHAR | 71, RAM VIHAR, OPPOSIE, SURAJMAL VIHAR |
| 188 | Punjab National Bank | DELHI, VIJAY NAGAR | SHOP NO. 8,9, & 10 VIJAY NAGAR |
| 189 | Punjab National Bank | DELHI, VIVEK VIHAR | A-5,VIVEK VIHAR, PHASE-II |
| 190 | Punjab National Bank | DELHI, YAMUNA VIHAR | C-3/55,YAMUNA VIHAR |
| 191 | Punjab National Bank | DELHI,ADARSH NAGAR | |
| 192 | Punjab National Bank | DELHI,ANAND VIHAR | BLOCK D,DDA MARKET,ANAND VIHAR |
| 193 | Punjab National Bank | DELHI,GUJRANWALA TOWN | A-17,GUJRANWALA TOWN |
| 194 | Punjab National Bank | DELHI,KAILASH NAGAR | 9/56,SHAHI BLOCK,KAILASH NAGAR |
| 195 | Punjab National Bank | DELHI,KASHMERE GATE | LOTHIAN ROAD,NEA ELECION OFFICE, KASHMERE GATE |
| 196 | Punjab National Bank | DELHI,KRISHNA NAGAR | F-2/3,KRISHAN NAGAR |
| 197 | Punjab National Bank | DELHI,LAWRENCE ROAD | A/11,COMMUNITY CENTRE,INDL. AEA,LAWRENCE ROAD |
| 198 | Punjab National Bank | DELHI,LAXMI NAGAR,SHAKARPUR | L-142,143,MAIN MARKET,SHAKARPUR LAXMI NAGAR |
| 199 | Punjab National Bank | DELHI,MUKANDPUR | MAIN ROAD MUKANDPUR, DELHI |
| 200 | Punjab National Bank | DELHI,MUKHERJEE NAGAR | DELHI,MUKHERJEE NAGAR |
| 201 | Punjab National Bank | DELHI,PATPARGANJ | 91, PATPARGANJ |
| 202 | Punjab National Bank | DELHI,PITAMPURA | 14,VASHALI, PITAMPURA |
| 203 | Punjab National Bank | DELHI,SCOPE TOWER LAXMI NAGAR | SCOPE TOWER (LAXMI NAGAR) |
| 204 | Punjab National Bank | DELHI,SHAHDARA | BHOLA NATH NAGAR, SHAHDARA |
| 205 | Punjab National Bank | DELHI,SHAHDARA,VISHWAS NAGAR | 3605 ST NO-8,VISHWAS NGR,SHAHDARA, DELHI |
| 206 | Punjab National Bank | DELHI,SHAKURBASTI | 499,SAINIK VIHAR SHAKUR BASTI |
| 207 | Punjab National Bank | DELHI,TRI NAGAR | 381,ZOOR BAGH, TRI NAGAR |
| 208 | Punjab National Bank | DELHI,WAZIRPUR,ASHOK VIHAR | 23 PHASE-I, ASHOK VIHAR, WAZIRPUR |
| 209 | Punjab National Bank | GARHI RINDHALA, DELHI | KH.NO.71/43,P.NO.171/1, GARHI RINDHALA,PO.NIZAM PUR |
| 210 | Punjab National Bank | GAZIPUR (DELHI) | PLOT NO.5, ANUPAM PLAZA-II, DDA SHOPPING COMPLE, GHAZIPUR, DELHI |
| 211 | Punjab National Bank | KANJHAWALA , DELHI | KANJHAWALA , DELHI |
| 212 | Punjab National Bank | KARALA | H NO 383 KHASRA NO 287 MAIN KANJWALA ROAD KAA |
| 213 | Punjab National Bank | KATEWARA, DELHI | K.NO.558,NEAR MERIGOLD,PUB.SCH,V&PO- KATEWARA |
| 214 | Punjab National Bank | MUSTAFABAD NEW DELHI | KHASARA NO 343 B-140 MAIN ROAD MUSTAFABAD |
| 215 | Punjab National Bank | NEW DELHI, GHEVRA | 566/2 NARELA ROAD,GHEVRA,DELHI |
| 216 | Punjab National Bank | NEW DELHI, KHERA KHURD | 602, VILLAGE & P.O.KHERA KHURD,DELHI |
| 217 | Punjab National Bank | NEW DELHI, SEC-5, ROHINI | NIKHIL-PLAZA TOWER, ROHINI-5 |
| 218 | Punjab National Bank | NEW DELHI, SHASTRI NAGAR | SHASTRI NAGAR |
| 219 | Punjab National Bank | NEW DELHI,KIRARI | 1-19,KHARSA NO-1467 PREM NAGAR-II KIRARI |
| 220 | Punjab National Bank | NEW DELHI,MAYUR VIHAR PH-III | CSC-III, B-1, DDA MARKET,MAYUR VIHAR, PH-III, DELHI |
| 221 | Punjab National Bank | NEW DELHI,MOTHER TR PUB SCHOOL | MOTHER TERESA PUBLIC SCHOOL, C-BLOCK, PREET VIHAR, DELHI |
| 222 | Punjab National Bank | NHPS MUKUND VIHAR | NAVYUG HAPPY PUBLIC SCHOOL, MUKUND VIHAR,KARAWAL NAGAR,DELHI |
| 223 | Punjab National Bank | PATPARGANJ IND. AREA-SPL SME DL | PATPARGANJ IND. AREA-SPL |
| 224 | Punjab National Bank | ROHINI SECTOR 9 | SHOP NO. 109 PLOT NO.8,SG SHOPPING IST FLOOR |
| 225 | Punjab National Bank | S N COLONY, DELHI | S.N.COLONY |
| 226 | Punjab National Bank | SATYAWATI COLLEGE(DELHI NORTH) | SATYAWATI CO-EDUCATIONAL COLLEGE, ASHOK VIHAR, DELHI |
| 227 | Punjab National Bank | SECTOR-24 ROHINI | BAAZ SHOPPING ARCADE CSC-2,NR POCKET 6 |
| 228 | Punjab National Bank | SHAHBAD DAULATPUR | |
| 229 | Punjab National Bank | SHIV VIHAR, DELHI | DELHI |
| 230 | Punjab National Bank | SONIA VIHAR , DELHI | B 1750 KH NO 338 , GALINO 24, SONIA VIHAR |
| 231 | Punjab National Bank | AYA NAGAR | AYA NAGAR DELHI DELHI |
| 232 | Punjab National Bank | BADARPUR (SOUTH DELHI) | BADARPUR 416 MAIN MATHURA ROAD NEW DELHI |
| 233 | Punjab National Bank | BALLABGARH | MATHURA ROAD,BALLABHGARH,FARIDABAD, HARYANA |
| 234 | Punjab National Bank | BHONDSI | PREM.OF RATANSINGH RAGHAV,BHONDSI,122102 |
| 235 | Punjab National Bank | DELHI NEW ,CHIRAG DELHI | 1-2,COMMUNITY CENTRE,SHEIKH SARAI |
| 236 | Punjab National Bank | DELHI NEW ALAKNANDA ASC | ALAKNANDA SHOPPING COMPLEX |
| 237 | Punjab National Bank | DELHI NEW C15 VASANT VIHAR | C-BLOCK VASANT VIHAR |
| 238 | Punjab National Bank | DELHI NEW GEETANJALI ENCLAVE | A-9, GEETANJALI ENCLAVE |
| 239 | Punjab National Bank | DELHI NEW GREATER KAILASH-I | B-73, GREATER KAILASH-I |
| 240 | Punjab National Bank | DELHI NEW GREATER KALASH 2 | 13-15 SAVITRI CINEMA COMPLEX |
| 241 | Punjab National Bank | DELHI NEW KHANPUR | MEHRAULI BADARPUR RD., KHANPUR |
| 242 | Punjab National Bank | DELHI NEW, BHIKAIJI CAMA PLACE | 7 BHIKAJI CAMA PLACE AFRICA AVENUE |
| 243 | Punjab National Bank | DELHI NEW, GREEN PARK | RAKESH DUTT BLDG. GULMOHAR ENCLAVE |
| 244 | Punjab National Bank | DELHI NEW, IGNOU | IGNOU COMPLEX,MAIDAN GARHI, |
| 245 | Punjab National Bank | DELHI NEW, JOR BAGH | JOR BAGH MARKET, JOR BAGH |
| 246 | Punjab National Bank | DELHI NEW, KALKAJI | 36, KRISHNA MARKET, KALKAJI, |
| 247 | Punjab National Bank | DELHI NEW, KHAN MARKET | 27, KHAN MARKET, SUJANSINGH PARK |
| 248 | Punjab National Bank | DELHI NEW, LAJPAT NAGAR | 11, K-59, LAJPAT NAGAR, |
| 249 | Punjab National Bank | DELHI NEW, NANAKPURA | H.NO. 158, VILL.MOCHI, MOTI BAGH |
| 250 | Punjab National Bank | DELHI NEW, NIZAMUDIN(WEST) | MAIN ROAD, NIZAMUDDIN WEST, |
| 251 | Punjab National Bank | DELHI NEW, OKHLA NSIC | NSIC BUILDING, OKHLA IND. ESTATE |
| 252 | Punjab National Bank | DELHI NEW, SOUTH EXTN. PART-1 | N-13,, SOUTH EXTENSION,PART-1, |
| 253 | Punjab National Bank | DELHI NEW, VASANT VIHAR D BLOCK | PLOT NO.5, LOCAL SHOPPING CENTRE,D-BLOCK |
| 254 | Punjab National Bank | DELHI NEW,EAST OF KAILASH | C-BLOCK, EAST OF KAILASH |
| 255 | Punjab National Bank | DELHI NEW,MAHARANI BAGH | 3, COMMERCIAL COMPLEX, ASHRAM CHOWK, |
| 256 | Punjab National Bank | DELHI NEW,NAGAL DEWAT | VILL.& PO NANGAL DEWAT, |
| 257 | Punjab National Bank | DELHI NEW,NAUROJI NAGAR | PLOT NO.A,S.J.DEV.AREA,NEAR KAMAL CINEMA |
| 258 | Punjab National Bank | DELHI NEW,NEHRU PLACE | 46, NEHRU PLACE, |
| 259 | Punjab National Bank | DELHI NEW,SEWA BHAWAN RK PURAM | SEWA BHAWAN, R.K. PURAM |
| 260 | Punjab National Bank | DELHI NEW,VSC ALAKNANDA | ALAKNANDA VSC,TARA APPT.MARKET |
| 261 | Punjab National Bank | DELHI VINAY NAGAR | SHOP NO.187, SAROJINI NAGAR MARKET, |
| 262 | Punjab National Bank | DELHI, CHANDAN HOLA | CHHATARPUR ROAD,FATEHPUR BERI |
| 263 | Punjab National Bank | DELHI, LODHI ROAD | SHOP NO.1, MAIN MARKET, LODI COLONY |
| 264 | Punjab National Bank | DELHI, MEHRAULI ROAD,HAUZ KHAS | G-6, HAUZKHAS |
| 265 | Punjab National Bank | DELHI, SARVODAYA ENCLAVE | A-4, SRI AURBINDO MARG, SARVODYA ENCLAVE, NEW DELHI |
| 266 | Punjab National Bank | DELHI,MALVIYA NAGAR | D-80, MALVIYA NAGAR |
| 267 | Punjab National Bank | DELHI,MCC, DEFENCE COLONEY | A-16 DDA SHOPP.COMPLEX DEF.COLONY |
| 268 | Punjab National Bank | DEOLI, DELHI | DEOLI |
| 269 | Punjab National Bank | DERA, NEW DELHI | NEW DELHI |
| 270 | Punjab National Bank | DILLI HAAT INA MARKET NEW DELHI | DILLI HAAT INA MARKET |
| 271 | Punjab National Bank | FARIDABAD HODAL | OLD G.T. ROAD, FARIDABAD, HODAL |
| 272 | Punjab National Bank | FARIDABAD NIT | NIT FARIDABAD, HARYANA |
| 273 | Punjab National Bank | FARIDABAD OLD | RAILWAY ROAD, FARIDABAD, HARYANA |
| 274 | Punjab National Bank | FARIDABAD SECTOR 8 | SCF 195, HUDA COMMERCT SEC 8, FARIDABAD |
| 275 | Punjab National Bank | FARIDABAD, ALAWALPUR | VILL & PO ALAWALPUR,TEHSIL PALWAL |
| 276 | Punjab National Bank | FARIDABAD, BYE PASS ROAD | FARIDABAD, BYE PASS ROAD |
| 277 | Punjab National Bank | FARIDABAD, CHARMS WOOD VILLAGE | FARIDABAD, CHARMS WOOD VILLAGE |
| 278 | Punjab National Bank | FARIDABAD, DAV CENTENARY COLLEG | FARIDABAD |
| 279 | Punjab National Bank | FARIDABAD, JHARSANTLY | VILL.& POJHARSENTLY, FARIDABAD |
| 280 | Punjab National Bank | FARIDABAD, MANDKOLA | VILLAGE &P.O.MANDKOLA,NUH TEHSIL |
| 281 | Punjab National Bank | FARIDABAD, MEWALA MAHARAJPUR | 14/3, MATHURA ROAD, FARIDABAD |
| 282 | Punjab National Bank | FARIDABAD, SECTOR-15 | LOCAL SHIOOING COMPLEX,SECTOR-15, FBD, HARYANA |
| 283 | Punjab National Bank | FARIDABAD,SEC-37 | HUDA SHOPPING COM.,SECTOR-37,FARIDABAD, HARYANA |
| 284 | Punjab National Bank | GARHI HARSARU, GURGAON | GARHI HARSARU |
| 285 | Punjab National Bank | GURGAON DAV SCHOOL SECT-14 | DAV PUBLIC SCHOOL BLDG,SECTOR-14,GURGAON,122001 |
| 286 | Punjab National Bank | GURGAON M G RD HIGH VALUE BRANC | MGF PLAZA MALL GURGAON,MG ROAD,DLF ENCLAVE GURGAON,122002 |
| 287 | Punjab National Bank | GURGAON, FOUNTAIN CHOWK | FOUTAIN CHOWK ,GURGAON |
| 288 | Punjab National Bank | GURGAON, GOLF COURSE ROAD | SHOP MO 1,23 AND 3 CENTRUM PLAZA |
| 289 | Punjab National Bank | GURGAON, MANESAR | REDDU PATTI, VILLAGE MANESAR, MANESAR 122050 |
| 290 | Punjab National Bank | GURGAON, RAJINDER PARK | 1896/31, GAUR POTTERIX BAJGHERAROAD, RAJINDEK |
| 291 | Punjab National Bank | GURGAON, RAMLILA GROUND | SADAR BAZAR,GURGAON |
| 292 | Punjab National Bank | GURGAON, SECTOR 46 | SCO 121, HUDA MARKET SECTOR 46, GURGAON |
| 293 | Punjab National Bank | GURGAON, SECTOR-4 | SCF-15, SECTOR-4, HUDA MARKET, GURGAON, HARYANA |
| 294 | Punjab National Bank | GURGAON, UDYOG VIHAR PHASE-I | 96,PHASE-I,UDHYOG VIHAR,GURGAON,TEH.GURGAON,122001. |
| 295 | Punjab National Bank | GURGAON,JHARSHA | GURGAON |
| 296 | Punjab National Bank | GURGAON,LARGE CORPORATE BRANCH | JMD PACIFIC SQUARE, SECTOR 15(II), NEAR 32 MILE STONE, GURGAON |
| 297 | Punjab National Bank | GURGAON,SUSHANT LOK | SHOP NO.14, THE PEACH TREE, SUSHANT LOK, GURGAON |
| 298 | Punjab National Bank | HAILEY MANDI | WARD NO.5,HAILEY MANDI |
| 299 | Punjab National Bank | JANGPURA | 603 CENTRAL ROAD, BHOGAL, |
| 300 | Punjab National Bank | KHANDSA RD,SEC-10A,GURGAON | SCO 5, SECTOR 10-A, KHANDSA ROAD, GURGAON |
| 301 | Punjab National Bank | LADY SRI RAM COLLEGE FOR WOMEN | LADY SHRI RAM COLLEGE |
| 302 | Punjab National Bank | MACHHGARH | 62, NAVI SCHOOL VILL MACHHGARH |
| 303 | Punjab National Bank | MANAV RACHNA INTERNATIONAL UNIV | SECTOR 43, FARIDABAD |
| 304 | Punjab National Bank | MEHRAULI | 1/53, KALKA DASS ROAD, MEHRAULI, NEW DELHI |
| 305 | Punjab National Bank | NEW DELHI KOTLA MUBARKPUR | H32-SUBHASH MKT. KOTLA MUBARAKPUR |
| 306 | Punjab National Bank | NEW DELHI, C R PARK | |
| 307 | Punjab National Bank | NEW DELHI, JANGPURA EXT | NEAR EROS CINEMA, J.P.EXTENSION |
| 308 | Punjab National Bank | NEW DELHI, LADO SARAI | NEW DELHI, LADO SARAI |
| 309 | Punjab National Bank | NEW DELHI, MOTI BAGH | D-17, ANAND NIKETAN, |
| 310 | Punjab National Bank | NEW DELHI, R K PURAM | SECTOR-4 MARKET, R.K. PURAM |
| 311 | Punjab National Bank | NEW DELHI, RAPC GREEN PARK | GULMOHAR ENCLAVE |
| 312 | Punjab National Bank | NEW DELHI, SAKET | NEW DELHI, SAKET |
| 313 | Punjab National Bank | NEW DELHI,SARITA VIHAR | J BLOCK,CSC,SARITA VIHAR |
| 314 | Punjab National Bank | NEW DELHI,VASANT KUNJ | POCKET-7,PLOT NO.7,NELSON MANDELA ROAD |
| 315 | Punjab National Bank | NUH HARYANA | WARD NO 1 MAIN TAORU ROAD, NAGLI MOD |
| 316 | Punjab National Bank | PALWAL | PNB, BYPASS ROAD,PALWAL ,NEAR RASOOLPUR CHOWK,PALWAL |
| 317 | Punjab National Bank | SANJAY COLONY, FARIDABAD | SHOP NO.24-26,SOHNA RD SANJAY COLONY,FARIDABD |
| 318 | Punjab National Bank | SEC 23A, HUDA MKT, GURGAON | SCO 20-P, SECTOR-23(A), GURGAON, HARYANA |
| 319 | Punjab National Bank | SEC21C, FARIDABAD, HARYANA | SCO 136 (LGF), SECTOR-21 C, FARIDABAD, HARYANA |
| 320 | Punjab National Bank | SECTOR 31, FARIDABAD | SCO-61, SECTOR 31, FARIDABAD (HARYANA) |
| 321 | Punjab National Bank | SECTOR-49,GURGAON | VATIKA BUSINESS PARK TOWER A SOHNA ROAD |
| 322 | Punjab National Bank | SOHANA | OPPOSITE PUNJABI DHARAMSHALA,SOHNA,DISTT GURGAON |
| 323 | Punjab National Bank | SUKHRALI (HARYANA) | BHANU COMPLEX,MEHRAULI GURGAON ROAD, SUKHRALI GURGAON |
| 324 | Punjab National Bank | TAORU (DISTT-MEWAT) | TAORU (DISTT-MEWAT) HARYANA |
| 325 | Punjab National Bank | TIGAON DT-FARIDABAD | TIGAON (DT-FARIDABAD) HARYANA |
| 326 | Punjab National Bank | WAZIRPUR GURGAON | CHAUHAN NIKETAN OPP RO WAZIRPUR NEAR BUS STAD |
Division
Location
PIN
Karkardooma
Division office, Corporate Annexe,CBD Grid-III,Opp.Big Bazar,Delhi
110032
Sub.Station Building, Saini Enclave,Near Pushpanjali Hospital Delhi
110092
Kasturba Nagar Vivek Vihar-II
110095
Krishna Nagar
Division office, F-15/2,Krishna Nagar,Delhi-
110051
Sub. Station Building,Gagan Vihar Delhi
110051
Complaint Centre, Kanchan Aptt. Geeta Colony,Delhi-110031
110031
Kanti Nagar Grid (66 Kv Grid,S.Stn Kanti nagar)
110051
Kailash Nagar Grid (66 KV Grid S.Stn Kailash Nagar)
110031
Block 8A.Geeta colony,Delhi-110031
110031
Laxmi Nagar
Division office, 66KV Grid S.Stn.Building, Guru Angad Ngr,Nr.Radhu Place,Laxmi Nagar Delhi
110092
Sub. Station Building No.13 Opp.Singla Sweet House, Madhu Vihar
110092
Shakar Pur Grid (66Kv Grid S.Stn Shakarpur)
110092
Enforcement office at S.Stn. No.5,I.P.Extension,Delhi
110091
S. Stn No. 6, Opp Fire stn,Patparganj,Delhi-110092
110092
Mayur Vihar I&II
Division office, Zonal office, Mayur Vihar-I,Delhi
110091
Pocket C, Mayur Vihar -II Delhi
110091
Yamuna Vihar
Division office, S Stn bldg, block C- 7, Yamuna Vihar, Nr Masjid,Delhi
110053
Shastri Park Grid (33 Kv Grid S Stn , Shashtri Park)
110053
Yamuna Vihar Grid (33 Kv Grid S Stn Yamuna Vihar)
110053
Seelampur Grid (33 Kv Grid S Stn Seelampur)
110053
Nand Nagri
Division office, Tahirpur Grid, Nand Nagari ,Opp. Rajeev Hospital,Delhi
110093
Ghonda Grid (66 Kv S Stn Grid Near Transport Authority East of Loni Gole Chakakar)
110094
C-2, Nandnagri, Nr Police stnDelhi-110093
110093
Karawal Nagar
Division office, Bhagirathi Grid,Karawal Nagar,Delhi
110094
Transformer Store ,Sonia Vihar,
110094
Karawal Nagar Grid Delhi
110095
Vasundara Encalve
Division office, Sub-station No.7,Dallupura Near Summer vile School
110096
S.Stn.Building,opp. Ryan Public School M.Vihar Ph.III,Delhi-110091
110096
Dilshad Garden
Division office, 66KV Grid S Stn, G.T.Road,, Nr Hind Pckt books, Dilshad Garden
110095
E & F Pocket,Dilshad Garden
110095
Zonal office,New Zafrabad,Delhi-
110053
Chandni Chowk
Zonal office Zone-no104 Anaz Mandi Lahori gate, Delhi
110006
Zonal Office, Tanga Stand, Hauz Kazi, Delhi.
110006
Zonal office Zone-no-105, Hamilton Road Delhi.
110006
Division Office, Chandni Chowk, near Meva Hotel, Town Hall Chandni Chowk
110006
Darya Ganj
BSES Office Gandhi Market Minto Road New Delhi-110002.
110002
Zonal office near Ghata Masjid Ansari Road Darya Ganj, Delhi
110002
Zonal office near Jagat Cinema, Jama Masjid, Delhi.
110006
Division Office Darya Ganj,Asaf Ali Road Kamla Market, Delhi
110006
Pahar Ganj
Zonal office Zone-no-113 Chuna Mandi Pahar Ganj Delhi-110055.
110055
Sub Station Bldg. Motia Khan Pahar Ganj, Delhi
110055
Zonal office Bahadurgarh Road Sadar Bazar Delhi-110006.
110006
Distt. Office Pahar Ganj Aram Bagh Pahar Ganj Delhi-110055.
110055
Shankar Road
33KV Grid, Shastri Park, Karol Bagh, New Delhi,
110055
Chapparwala, D.B. Gupta Road, Karol Bagh New Delhi.
110005
Division Office Shankar Road, New Rajinder Nagar, New Delhi.
110060
Patel Nagar
Zonal Office near Ramjas School Anand Parbat New Delhi
110005
Zonal Office, Kikarwala, Karol Bagh, New Delhi
110005
Division Office Patel Nagar, near Neelkanth Mandir East Patel Nagar N.Delhi.
110005