BRPL_AboutBSES_Content
BSES Rajdhani Power Limited (BRPL)
BRPL distributes power to an area spread over 750 sq. km with a customer density of ~3100 per sq km. It's over ~2.4 million customers are spread in 21 districts across South and West areas including
Alaknanda, Dwarka, Hauz Khas, Jaffarpur, Janak Puri, Khanpur, Mundka, Najafgarh, Nangloi, Nehru Place, Nizamuddin, Palam, Punjabi Bagh, R.K. Puram, Saket, Sarita Vihar, Tagore Garden, Vasant Kunj, Vikas Puri, Uttam Nagar & Mohan Garden.
System Augmentation and record AT&C loss reduction
Since taking over distribution, BSES' singular mission has been to provide reliable and quality electricity supply. BSES has invested over Rs 7800 crores on upgrading and augmenting the infrastructure which has resulted in a record reduction of AT&C losses.
From a high of 63.1 % AT&C losses in BYPL area in 2002 the losses have come down to 12.7%** in FY17, a reduction of over 50%.
Similarly, in BRPL area AT&C losses have been reduced from 51.5% to 10.7%** in FY17, a reduction of over 41%
| SN | Particular (As of Mar '17) | UoM | BRPL | BSES Delhi |
| --- | --- | --- | --- | --- |
| 1 | Area | sq. km | 750 | 950 |
| 2 | Customer Density | Cons/sq km | 3116 | 5224 |
| 3 | Total Registered Customers | Million | 2.34 | 3.92 |
| 4 | Peak Demand | MW | 2778 | 4271 |
# Provisional; pending true up
The following operational statistics given an overall view of the strength of BSES distribution network:
SN
ITEMS
FY 02-03
FY 16-17
BSES % Growth
BRPL
BSES
BRPL
BSES
1
Grids (Nos)
63
103
89*
141
37%
2
Power Transformers (Nos)
146
244
238
388
59%
3
EHV Capacity (MVA)
3036
4899
5498
8763
79%
4
EHV Cable Length/Line Length Laid (KM)
674
1037
1075
2038
97%
5
66 & 33 kV Feeders (Nos)
132
221
228
386
75%
6
Shunt Capacitors (MVAr)
810
1383
1543
2570
86%
7
Distribution Transformer (Nos)**
4852
7509
8522
12263
63%
8
Distribution Transformers Capacity (MVA)
2587
4291
4537
7310
63%
9
11 kV Feeders (Nos)
733
1209
1278
2088
73%
10
11 KV Cables laid (Kms)
1595
2898
4434
6305
118%
11
11 KV Lines laid (Kms)
1566
1711
2035
2280
33%
12
LT Feeders (Nos)
15219
25412
23020
37203
46%
13
LT Lines laid (Kms)
5382
9971
10944
16730
68%
* Includes 9 nos 33 kV HT Consumer ** excludes HVDS transformers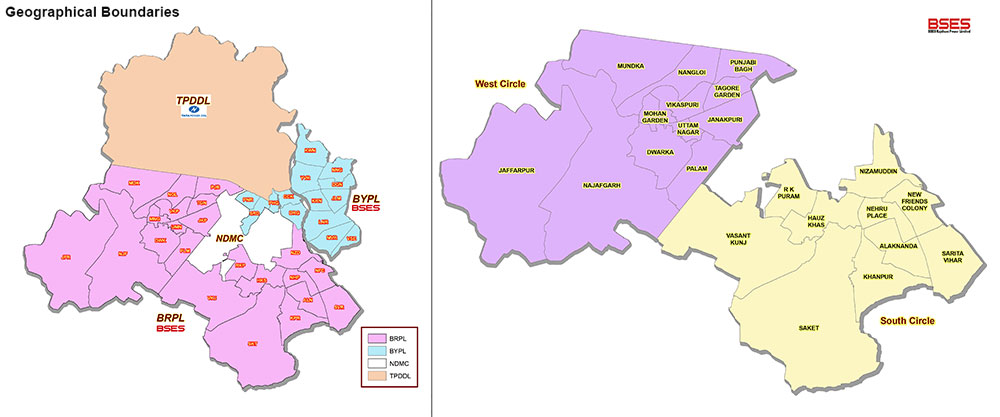 BRPL Corporate Office
Address
:
BSES Rajdhani Power Limited
BSES Bhawan, Nehru Place, New Delhi
-110019
Nearest Landmark: Nehru Place Bus Terminus.
Telephone
:
011-49209999
CIN
:
U40109DL2001PLC111527