BRPL_AboutBSES_Content
BSES Rajdhani Power Limited (BRPL)
BSES Rajdjani Power Limited (BRPL) supplies reliable power to an area spread ~ 700 sq. kms with a customer density of ~3100 per sq km. Its over 2.7million customers are spread across 22 divisions across South and West areas, including Alaknanda, Dwarka, HauzKhas, Jaffarpur, JanakPuri, Khanpur, Mundka, Najafgarh, Nangloi, Nehru Place, New Friends Colony, Nizamuddin, Palam, Punjabi Bagh, R.K. Puram, Saket, SaritaVihar, Tagore Garden, Vasant Kunj, VikasPuri, Uttam Nagar & Mohan Garden.
System Augmentation and record AT&C loss reduction
The following operational statistics given an overall view of the strength of BSES distribution network:
Since taking over distribution, BSES' singular mission has been to provide reliable and quality electricity supply. BSES has invested over Rs 11000 crores upgrading and augmenting the infrastructure, which has resulted in a record reduction of AT&C losses. Today, it has one of the most advanced distribution networks in the county.
From a high of 63.1 %, AT&C losses in 2002, AT & C losses in BYPL areas of East and Central Delhi have come down to ~ 7.5% in FY21, a reduction of over 55%.
Similarly, in the BRPL area of South and West Delhi, the AT&C losses have reduced from 51.5% to ~ 7%** in FY21, a reduction of ~ 45%
| SN | Particular (As of Mar '21) | UoM | BRPL | BSES Delhi |
| --- | --- | --- | --- | --- |
| 1 | Area | sq. km | ~700 | ~900 |
| 2 | Customer Density | Cons/sq km | ~3100 | ~5300 |
| 3 | Total Registered Customers | Million | ~2.7 | ~4.5 |
| 4 | Peak Demand | MW | 3211 | 4864 |
# Provisional; pending true up
The following operational statistics given an overall view of the strength of BSES distribution network:
S.No.
PARAMETERS
UOM
FY 2002-03
FY 20-21
% Increase
BRPL
BSES
BRPL
BSES
1
Total Grids
No.
63
103
100
154
50
2
EHVFeeders
No.
132
221
253
423
91
3
EHV Lines /Cables
ckt km
674
1037
1,243
1899
83
4
Power Transformer
No.
146
244
269
437
79
5
EHV Capacity
MVA
3036
4899
6,376
10297
110
6
11KV Feeders
No.
733
1209
1,593
2515
108
7
11KV Lines /Cables
ckt km
2299
3747
8,065
11077
196
8
Distribution Transformers
No.
4852
7509
9,880
13825
84
9
Distribution Transformers Capacity
MVA
2587
4291
6,381
9896
131
10
LT Feeders
No.
15219
25412
33,603
49160
93
11
LT Lines /Cables
ckt km
5382
9971
13,118
18802
89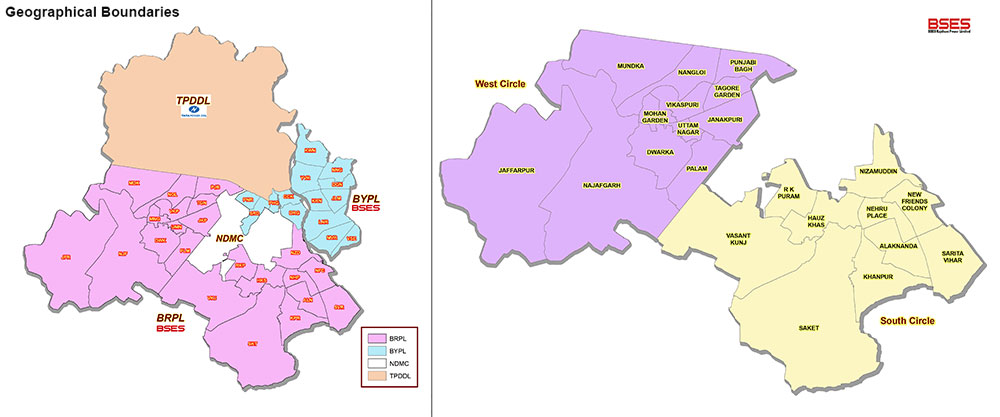 BRPL Corporate Office
Address
:
BSES Rajdhani Power Limited
BSES Bhawan, Nehru Place, New Delhi
-110019
Nearest Landmark: Nehru Place Bus Terminus.
Telephone
:
011-49209999
CIN
:
U40109DL2001PLC111527